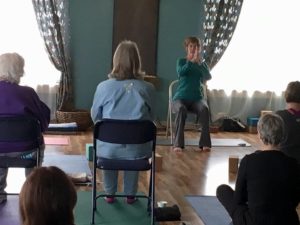 Coming This September – Register Now!
Next 8 Week Workshop  Sept 18 – Nov 8
Do you have arthritis, fibromyalgia, or other aches and pains? Would your body prefer a gentle yoga practice? Are you interested in learning how to work with people who have arthritis? This is the class for you!
The yoga taught in this workshop draws from many yoga practices, and is designed specifically for people with arthritis. It is a gentle class designed to help you understand how to use yoga and modifications to manage your arthritis. We may use chairs, blocks, the wall, or other props to support your body in the practice as needed. You will also learn how to create a home practice for your own physical and emotional needs, and you can take what you learn in to any class or group setting.
The class is based on the research presented by Dr. Stephanie Moonaz and in accordance with the Arthritis foundation.
This is an 8 week series, meeting 2 times per week.
When: Tuesdays and Thursdays, 2:00p-3:00p, September 18 – November 8
Where: Carson City Yoga, 7th Street Location: 116 E 7th St, #4
Price: $180 for all 8 weeks (16 classes)
Teacher: Diane Dunn
This class series builds on itself each week, and so it is highly encouraged that you attend all classes.  Missed classes are not refundable or transferable.
If you have any questions about this class and/or if it is right for you, please send us a note through our contact form. Diane will get back to you to answer any questions you might have.
Registration Now Open