Yoga for Arthritis 1 and Yoga for Arthritis 2
Two time options, with 2 slightly different classes:
Yoga for Arthritis 1  ~ Tuesdays, 1:30 – 2:45pm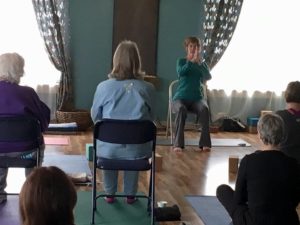 This class is a great class for people brand new to yoga, and dealing with pain or other issues in the body.  You will learn how to adapt yoga for your body, how to use it to help manage pain, and how to use chairs and other props to make yoga more accessible.  This class has a chair yoga option, and is great for those who might have a little less mobility.

Yoga for Arthritis 2 ~ Tuesdays 5:30 – 6:45pm
The evening class is a good option for those with a little more mobility and/or some experience with yoga.  Beginners are still welcome, and modifications will still be offered as needed. As with the earlier class, you will learn to adapt yoga for your body, how to use props and modifications, and how to use yoga to manage arthritis related symptoms.
Both Yoga for Arthritis classes are open for drop ins.  That means they are weekly classes, and you can use your yoga class packages or pay the drop in rate, and come to any of the classes.
If you have any questions about either of these classes, contact us here, and your email will be forwarded to Diane.  She will be happy to talk with you about the class, and which one is best for you.
Visit our Calendar to sign up for these classes.  You can log in and purchase class packages here.
 ~~~
Coming Next Fall!
Next 8 Week Workshop will be Sept 25 – Nov 13
Do you have arthritis, fibromyalgia, or similar aches and pains? Would your body prefer a gentle yoga practice? Are you interested in learning how to work with people who have arthritis? This is the class for you!
The yoga taught in this workshop draws from many yoga practices, and is designed specifically for people with arthritis. It is a gentle class designed to help you understand how to use yoga and modifications to manage your arthritis. You will also learn how to create a home practice for your own physical and emotional needs, and you can take what you learn in to any class or group setting.
The class is based on the research presented by Dr. Stephanie Moonaz and in accordance with the Arthritis foundation.
This is an 8 week series, meeting 2 times per week.
When: Tuesdays and Thursdays, 2:00p-3:00p, September 25 – November 13
Where: Carson City Yoga, 7th Street Location: 116 E 7th St, #4
Registration will open this summer.
Teacher: Diane Dunn