Sunday Morning Long Practice
with Molly Dahl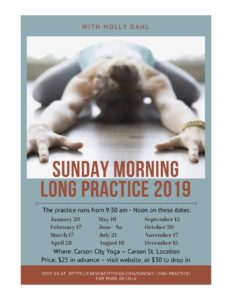 Note: The August 18 class has been cancelled unexpectedly due to a teacher injury. So sorry for the last minute notice. Please plan on attending in September!
Third Sunday of the Month, 9:30-noon
Next date: September 15th

This slow and leisurely Sunday morning yoga practice will gently warm you up and prepare your body and mind for deeper opening and exploration. The class finishes with a lovely guided meditation.
This practice is based on the Tibetan Yoga chakra balancing series, allowing each student to create a smooth flow of balanced, calm energy. The extra time allows you to deepen into each asana in a way that isn't available in a shorter class. This deepening relaxes and heals body and mind, reversing the effects of anxiety and chronic stress. (We could all use a little of that!)
You will leave this class feeling deeply rested and rejuvenated!
Please note: If you are using a phone to complete your purchase, please use this link instead of the form below.