We are doing it again!
Our open house has become an annual event. We are doing it again this March… and You Are Invited!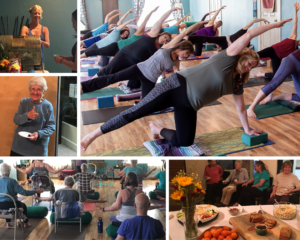 Please come celebrate with us on Saturday, March 21st at our Carson St Location. We will have free yoga throughout the day, great refreshments, and raffle prize drawings. Share in community and laughter, meet the teachers and learn about new classes, get to know your fellow students, and generally enjoy good company! Come any time throughout the day.
We will post our raffle prizes soon. Meanwhile, here's the schedule for our FREE YOGA:
Between 10:45 – 4, we will offer free short yoga classes (try something new, meet the teachers!). Each class will be about 25 minutes, and there will be breaks between the classes.
10:45a – Family Yoga with Dresden (bring the kiddos!)
11:30a – Yoga Flow with Cindy
12:15p – Yoga for Athletes with Molly
1:00p –   Vinyasa with Steve
1:45p –   Yoga for Arthritis / Chair Yoga with Diane D
2:30p –   Yin and Restorative Yoga with Lisa
3:15p – 4pm Gentle Movement Qigong with Deborah, followed by
Final Meditation with Jenn, with Molly playing the Singing Bowls
Come anytime during the day. Teachers will be available for questions and conversations, and there will be short breaks between each class for food and community. Everyone is invited to come back at the end of the day to join us for a lovely meditation and blessing for the studio, the students, the teachers, and the community.
We look forward to sharing this day with You!