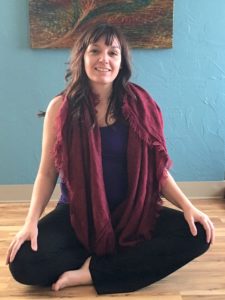 "I want everyone to be able experience the gratification of mindfulness and the conscious collection of energy when we practice in a class. Because after all, isn't that what we strive for? A community of like minded individuals sharing positive energy…" – Rosemary Orantes
Rosemary was introduced to yoga at the young age of 14 – bored at her mother's office, she strolled the Reno neighborhood and found a small yoga studio. Having never even heard the word yoga, she walked in, met the owner and attended her first class. Lynn Ramsey of the Yoga Shack quickly became a mentor for the young Rosemary and her practice began to bloom.
Rosemary now has over 15 years of practice that has sustained her within the ebb and flow of life, and her yoga practice is ever changing. In 2011, Rosemary decided to dive deeper into yoga, and she completed a 200 hr teacher training program through Yoga Loka in Reno.
Rosemary enjoys teaching prenatal yoga, mindful flow classes, and even hot yoga! She enjoys the movement of body and breath and teaches it as more of a dance. This dance helps build the connection or "yoke" between them.
Rosemary is one of our regular subs at the studio, so you may see her in a variety of different classes.