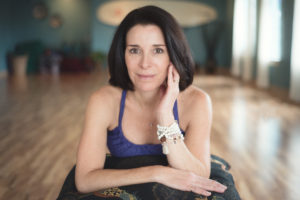 "There is a Mandala of Secrets and a Shout of Joy waiting to unfold in the heart, revealing the beautiful and deep journey to our true Self." – Jenn Andrews
Jenn Andrews, M.A. has been studying yoga for almost twenty years now and was a yoga studio owner for over 5 years. She registered with Yoga Alliance as an E-500 RYT and a YACEP.  Jenn has been branching out worldwide to teach yoga and meditation both domestically and internationally.
Jenn Andrews has been studying Meditation Secrets for Women and Radiance Pranava Meditation for years with her teachers, Camille Maurine and Dr. Lorin Roche. She has been certified under their teachings and guidance and is faculty for both Meditation Secrets for Women and The Radiance Sutra Meditation Teacher Training.
As a meditation teacher Jenn is committed to developing a meditation practice that suits the needs of every individual student. Meditation is not a one-size fits all practice! In fact there are hundreds of techniques for meditating and so it could be a bit overwhelming to know which one is right for you. It is our philosophy that meditation should feel natural to you and that the essence of meditation is simple: What YOU love becomes the basis, the starting point and the foundation for your personal practice. Radiance Pranava Meditation is an instinctual style of meditation that embraces and accepts your unique desires and longing for the richness of life. Here, we are on a path of intimacy and our meditation is our loving attention to the Self.
Learn more about Jenn in our interview with her here.
You can reach Jenn directly, and find out more about her offerings on her website.