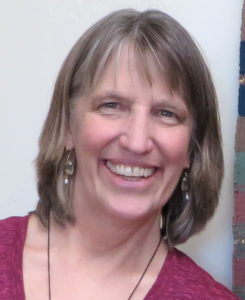 "In class, we learn to listen to our bodies and to accept them as they are. We approach asana with a light heart, finding fun even in falling, amazement in our steadiness and strength, and we bring laughter as well as awareness to the shapes of our bodies and how we move them." – Amy 
~~
Amy is owner of Carson City Yoga, holding the studio steady as it grows into what it needs to be. She brings a passion for quality, community, and education to the studio.
Amy has been practicing yoga in one form or another for most of her adult life, and the practices of asana, meditation, and breath have kept her grounded, centered, and (mostly) sane through the chaos of life.  She comes to yoga with a strong background in anatomy and physiology, and a long career in massage & bodywork, structural integration, and personal fitness.
Amy is registered with the Yoga Alliance as a 500 hour RYT (registered yoga teacher) and a YACEP (yoga alliance continuing education provider).  She has owned and operated her own massage and yoga businesses for over 20 years now.  She has additional experience leading 200 hour yoga teacher trainings, and assisting in the creation of training curriculum.
Amy's yoga classes are informed by her deep studies in Buddhist, tantric, and contemplative traditions, and infused with a deep sense of presence.  Her approach is eclectic, and instruction is individualized to student needs.  Learning and teaching with an open heart, she believes classes should be fun as well as educational.  Her classes are unique, safe, and light hearted, and are created to be accessible for all bodies.
You can learn more about Amy in the interview found here.