Meditation Secrets to Rest in Your Essence
A Meditation and Movement Workshop with Jenn Andrews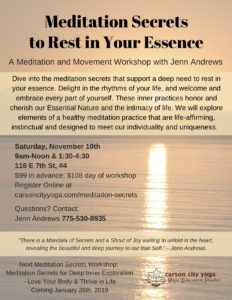 During this workshop we will dive into the meditation secrets that support the deep need to simply rest in our own essence. We will also explore the ability to delight in the rhythms of our own life while we welcome and embrace every part of ourselves.  These inner practices continue to honor and cherish what is in our Essential Nature with the intimacy of life. We will explore elements of a healthy meditation practice that are life-affirming, instinctual and designed to meet our individuality and uniqueness.  All levels Welcome, no experience necessary.
Class Details:

Saturday, November 10th, 9am-12pm & 1:30-4:30pm
Location: 116 E 7th St, Suite 4
$99  – Advance Purchase – Register Below
This class is part of a series of Meditation Secrets.  Workshops can be taken in any order.
Next Workshop: Meditation Secrets for Deep Inner Explorations – Love Your Body and Thrive in Life
Coming January 26th, 2019
Registration and details coming soon.
"There is a Mandala of Secrets and a Shout of Joy waiting to unfold in the heart, revealing the beautiful and deep journey to our true Self." – Jenn Andrews