Meditation Secrets for Women
Whether you are brand new to the world of meditation or you have an ongoing meditation practice, these meditation offerings can help you dive deep into your practice.
Next Day Long Workshop: September 21st – See description below
Meditation Secrets Series for Peace and Contentment: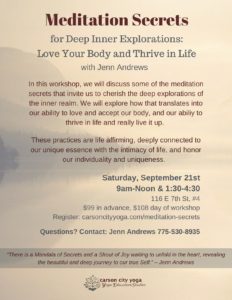 Jenn will be offering 4 Saturday Workshops throughout 2019. These workshops are based on Meditation Secrets for Women by Camille Maurine and Dr. Lorin Roche. Each Saturday workshop will cover 3 of 12 meditation secrets.  You can take just one workshop, or choose to take all 4.
Workshop Dates:  March 30th ~ May 18th ~ July 13th ~ September 21st
Fee for each workshop is $99 pre-registration or $108 at the door.
Location for each workshop: 116 E 7th St #4
Time: 9am-noon and 1:30-4:30pm
September 21st: Deep Inner Explorations
Love Your Body and Thrive in Life

Dive into the meditation secrets for women that support a deep need to rest in your essence.  The secrets help us delight in the rhythms of our lives and to welcome and embrace every part of ourselves.  These inner practices honor and cherish our essential nature and the intimacy of life.  We will explore elements of a healthy meditation practice that are life-affirming, instinctual and designed to meet our individuality and uniqueness.
Register Below for the Sept 21st Workshop (Please note: If you are using a phone or small device, please use this link instead of the form below)

Coming in December: The Gifts of Meditation – 
A full weekend workshop coming December 6th-December 8th 2019. Additional details to come as the time gets closer. Fee for the weekend (Fri night, all day Sat and Sun): $240
"There is a Mandala of Secrets and a Shout of Joy waiting to unfold in the heart,
revealing the beautiful and deep journey to our true Self." – Jenn Andrews