Meditation Secrets
for Peace and Contentment 
Whether you are brand new to the world of meditation or you have an ongoing meditation practice, these meditation offerings can help you dive deep into your practice.
Meditation Secrets Series for Peace and Contentment: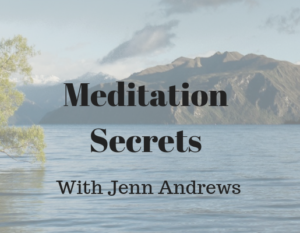 Jenn will be offering 4 Saturday Workshops throughout 2019. These workshops are based on Meditation Secrets for Women by Camille Maurine and Dr. Lorin Roche. Each Saturday workshop will cover 3 of 12 meditation secrets.  You can take just one workshop, or choose to take all 4.
Workshop Dates:  March 30th ~ May 18th ~ July 13th ~ September 21st
Fee for each workshop is $99 pre-registration or $108 at the door.
Coming in December: The Gifts of Meditation – 
A full weekend workshop coming December 6th-December 8th 2019. Additional details to come as the time gets closer. Fee for the weekend (Fri night, all day Sat and Sun): $240
Registration now open for the May 18th workshop:
Explore the Meditation Secrets for Women that affirm our unique Zest for Life in the May Movement and Meditation Workshop:
"There is a Mandala of Secrets and a Shout of Joy waiting to unfold in the heart,
revealing the beautiful and deep journey to our true Self." – Jenn Andrews