Meditation Basics
A Workshop with Molly Dahl that includes Philosophy, Instruction, and Practice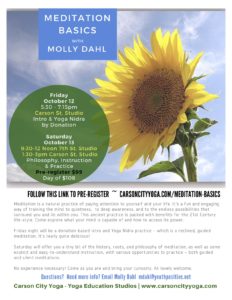 Meditation is a natural practice of paying attention to yourself and your life. It's a fun and engaging way of training the mind to quietness, to deep awareness, and to the endless possibilities that surround you and lie within you.
This ancient practice is packed with benefits for the 21st Century life-style. Come explore what your mind is capable of and how to access its power.
Friday night will be a donation-based intro and Yoga Nidra practice ~ which is a reclined, guided meditation. It's really quite delicious!
Saturday will offer you a tiny bit of the history, roots, and philosophy of meditation, as well as some explicit and easy-to-understand instruction, with various opportunities to practice ~ both guided and silent meditations.
No experience necessary! Come as you are and bring your curiosity. All levels welcome.
Workshop Details:
Friday, October 12th
5:30 – 7:15pm – at the Carson St studio
Intro to the Workshop and Yoga Nidra
by Donation
Saturday, October 13th
9:30a – 12pm  at the 7th St studio
1:30 – 3pm at the Carson St Studio
Philosophy, Instruction, and Practice
$99 with advance registration (register below) ~ $108 day of the workshop