What is Yoga, Anyway?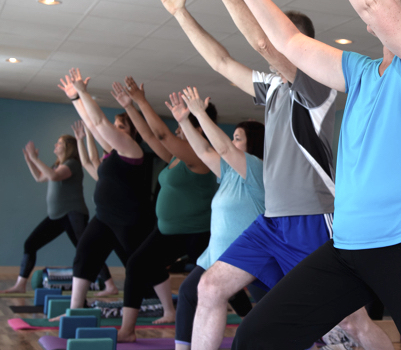 Are you curious about yoga, but are not sure where to start? Do you come to classes, and have questions about the practice? Or maybe you want to know if yoga is something you can do…
This is an introductory workshop offered approximately once a month. The two hour format is part instruction, part question and answer, and part practice, all designed to introduce you to the basics of yoga, and help you decide where and how to begin.
Some things you will learn in this class:
What is Yoga, anyway? and is all yoga the same? (short answer: nope)
What are the types of yoga, and which style is for you?
How can you make yoga work for you and your body type?
Learn a few basic yoga poses (and their names) that will help you to enter a class with more confidence.
Experience how yoga poses might be put together in a class.
Learn about props and how to use them (blocks, blankets, straps)
Explore the connection between body, mind, breath, and meditation.
Learn what to expect in a class, discuss studio etiquette, and ask any other questions you have about yoga and about practicing in a studio.
Get more information about the different classes offered at CCY and find out which one(s) might be best for you to attend.
And whatever else we need to discuss based on your questions!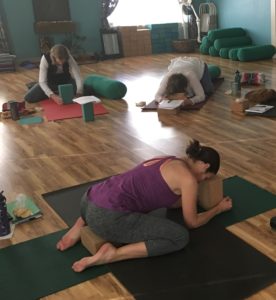 You do not need to be flexible, strong, or balanced, and you do not need to have fancy yoga pants. This is a place to begin exactly as you are!
Once you register, an email will be sent detailing what you need to know (location, what to wear, what to bring, etc). In the meantime, if you do have questions, feel free to contact us. Or just register below, and come on in for the class!
Logistics and Registration
Next class date: February 29th, 1-3p
at the Carson St Studio – 305 N Carson St #202
Price: $20 for the 2 hour class
Bonus: Your $20 payment for class will be applied to your first purchase of a 10 pack OR to your first month if you choose the monthly membership. Purchase must be made within two weeks of attending the workshop to get this bonus.
(note: there will be no intro to yoga workshop in March. Our next offering of this class will be in April.)
The February class will be led by Amy.
Register below for the February 29th class.
Please Note: If you are using a phone or other small device, use this link instead of the form below.