Every-Body Yoga (Senior Yoga and Adaptive  Yoga)
NOTE: Beginning January 8th, the new time for this class will be Wednesdays, 10am – 11am, still at our 7th St studio.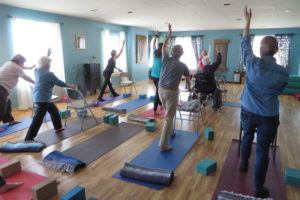 Learn to make yoga accessible for your body! This is a great class for seniors, people with arthritis or fibromyalgia, anyone with limited mobility, or anyone who thinks that their body cannot do yoga. If you have taken the Yoga for Arthritis series, or are waiting to take that series, this is a great class that can serve as a follow up class, or a way to get started before taking that series.
We move slowly, with modifications as needed. We explore yoga poses in a way that makes them accessible for your body, whatever your body can do. We use props such as blocks, chairs, blankets, the wall, or any other tools that come in handy to allow you to experience the benefits of the yoga pose, even if that pose looks different for each person in the room.
Chairs are an option if you do not want to get up and down off the floor, and mats are an option if you prefer the floor. You can keep it gentle, or push your self a bit. It all depends on how you feel that day! Explore balance, strength, and flexibility, and discover the energetic and breath aspects of yoga.  This class is designed to help us all find a little more ease in our movements and our lives.
Wednesdays 1:30p – 2:30pm at the 7th St Studio
Taught by Diane
Note: Beginning January 8th, the class time will change to 10am.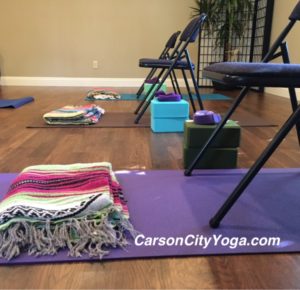 Please Note: This class has a "Pay What You Can" option. While it is offered on the schedule at our regular rates, and you are welcome to use your class packages, we also recognize that those rates may not work for everyone. If our rates and packages do not work for you at this time, you may come to this class and pay what you can when you can.  We never want money to be a reason not to do yoga. If this class is for you, please come!  If you have any questions, please contact us.