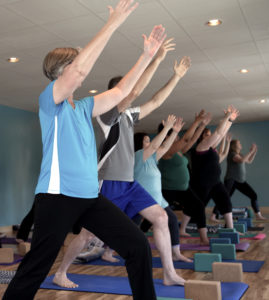 Wake up with Yoga!
This early class on Saturdays is a mixed level class that gets you up and about and ready for your weekend. 
Start slowly, moving body and breath, stretching and opening into the day. From a gentle start, we move into more energetic movement, creating flows, building strength and balance, and shifting from early morning stiffness to freedom of movement.  A great centering start to your weekend!
Saturdays, 7:30 – 8:45am
Teacher: Amy
Who is this class for?  This is a mixed levels class. Students should have some experience on the mat, and beginners and those with good awareness of their bodies are welcome. This is a stronger class with more flow than the 9 am beginners class. If you are brand new to yoga, or have limited movement in your body, you might want to check out the 9am Saturday class.