Midweek Meditation with Jenn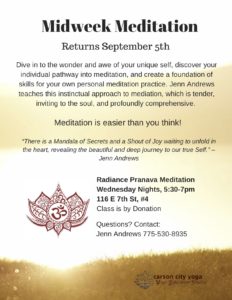 Returns September 5th! 
Radiance Pranava Meditation as taught by Jenn Andrews is a highly personalized practice and one that is designed to honor the unique life of every student.  What YOU love becomes the basis, the starting point and the foundation of your meditation practice. This instinctual style of meditation embraces and accepts your unique desires and longing for the richness of life.  In this process, we are on a path of intimacy and our meditation is our loving attention to the Self.  Radiance Pranava Meditation is based on years of study with Camille Maureen and Dr. Lorin Roche.
This class is by donation, and meets Wednesday nights, 5:30-7 at our 7th St Studio –  116 E 7th St, #4

NOTE: This class will take a break for the months of July and August.  Last day of class for the summer will be June 27th, and will resume again on September 5th.