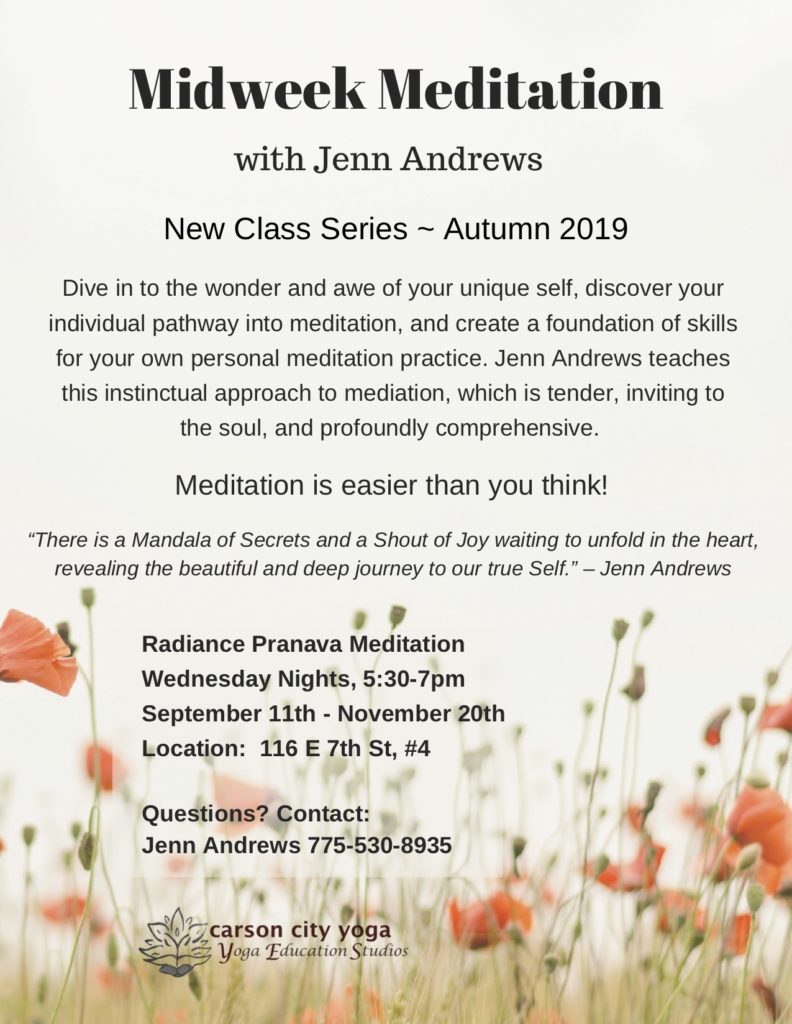 Midweek Meditation with Jenn
New Midweek Meditation Offering Begins September 11th!
Midweek Meditation with Jenn Andrews will run for 11 weeks this Fall. Each week, we will dive into inner practices of meditation. Come and explore elements that make up a healthy meditation practice that is life-affirming, instinctual, and designed to meet your individuality and uniqueness.
Wednesday Evenings 5:30-7pm
September 11th – November 20th
@ the 7th St Studio: 116 E 7th St, #4
Class is on a "pay what you can" option. No payment is required, and if you do choose to make a financial offering, it supports the time and energy of the teacher, and helps pay for the space.
Come when you can, or plan to come to the full series. All are welcome, no meditation experience necessary! No need to sign up in advance, just come on in. Feel free to contact us if you have questions.
About the Meditation Practice:
Radiance Pranava Meditation as taught by Jenn Andrews is a highly personalized practice and one that is designed to honor the unique life of every student. What YOU love becomes the basis, the starting point and the foundation of your meditation practice. This instinctual style of meditation embraces and accepts your unique desires and longing for the richness of life. In this process, we are on a path of intimacy and our meditation is our loving attention to the Self. Radiance Pranava Meditation is based on years of study with Camille Maureen and Dr. Lorin Roche.