Check our Calendar for the full schedule and to sign up for a class.  Below are descriptions for some of our weekly classes.

Lunch Time Yoga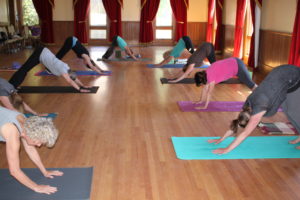 This is a mixed level class in the middle of the day – a great chance to reset and refresh. All levels and abilities are welcome.  The class is designed to help rejuvenate and stimulate the mind and the body so that the rest of the work day is met with a fresh perspective. This class is not a "super-sweaty" flow class so you can return to work or go about your day without feeling like you need to shower.
Bonus! Start a Lunch Time Yoga class card, and for every 6 lunch time yoga classes you attend, you get your 7th Free! (Classes that count toward the free one need to be used within 6 months of each other)
This class is taught by a different teacher each day of the week, so the teaching style may be different each day.
Teachers: Mondays with Molly, Tuesdays with Jenn, Wednesdays with Cindy, Thursdays with Lisa, and Fridays with Mary Kay.
Location: Carson St Studio
Mondays through Fridays, 12-1pm

Yin Yoga
Yin Yoga is designed to complement active styles of yoga like Vinyasa and Power Yoga. Long-held soothing postures calm the mind and stretch the body, improving mobility, and preparing the body for seated meditation. Suitable for all levels.
Teacher: Lisa Cook
Location: Carson St Studio
Mondays 5:30-7pm  
Slow and Steady Yoga
There are 3 different versions of this class – you can see all the descriptions here. In general, the slow and steady classes begin with a slow gentle warm-up, gradually building toward standing poses that create steadiness, strength, and balance.  Working our way back down, the intensity settles into gentle stretching, followed by a deep relaxation. We touch on it all – core stability, alignment, strength, flexibility, balance, and a strong mind-body-breath connection.  Students are encouraged to listen to the needs of their body, learning to trust when to push the edges, and when to back off of the intensity.  Suitable for all levels.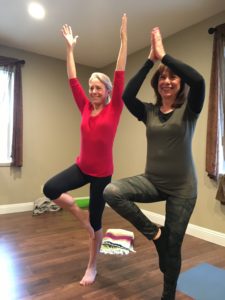 Teacher: Amy Joytir
Beginning level Mondays 5:30 at the 7th st studio; mixed levels Wednesdays and Fridays 9am at the 7th st studio; and level 2 Mondays and Wednesdays 3:30pm at the Carson St studio.
Gentle Yoga

During this gentle yoga practice you will experience gentle flow and restorative poses and deep relaxation. Focus on breathing techniques and meditation will provide a stillness to the body & mind for internal balance and healing. Slow down the pace, release tension & pain, and restore your energy with gentle yoga. Incorporates asana into a slow, meditative, calm practice. Perfect for beginners or advanced students to welcome soft openings and mind-body awareness.
Teachers: Jenn or Molly
Location: Carson St Studio
Tuesdays 9-10:30 with Jenn
Wednesdays 5:30-7 and Thursdays 9-10:30 with Molly
Kick Ass Yoga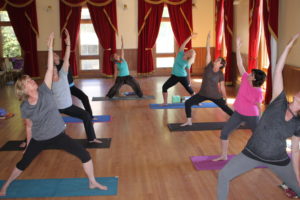 This Power Yoga class is kicked up just a few notches for those who are looking for a stronger flow yoga class. In this challenging class you will tap into deeper levels of not only the physical body, but also the energy body.  Steve often offers dharma teachings along with the asana practice, which allows you to drop just a bit deeper into the experience.
Teacher: Steve Yochum
Location: Carson St Studio
Tuesdays 5:30-7pm
Yoga for Men
A non-intimidating and educational class just for men. Gain insight into how the body moves and learn fundamental techniques and modifications that maximize a man's yoga practice. This class is appropriate for beginning students and more experienced practitioners. Improve athletic performance, prevent injuries, and enhance overall well being in a class specifically geared towards the special strengths and unique challenges of men's bodies.
Teacher: Angela Sullivan
Location: Carson St Studio
Thursdays 5:30-7pm

Beginning Yoga
Not flexible? Need to build strength and balance? Curious about yoga? Been a while since you've been on the mat? This class teaches foundational poses to increase strength and safely stretch your muscles.  Learn to use props such as blankets and blocks to support your body, and discover the supportive role of breath in movement.  Great class for beginners, and anyone who wants to step back and explore fundamentals.
Teacher: Mary Kay Raponi 
Saturdays 9-10:15am at the Carson St studio