Happy New Year! Now is the time to purchase your yoga package – check our annual sale!
New to CCY? Try the New Student Special. Are you a regular at the studio? need a weekly tune up? Check our calendar for classes, including some new ones added this month, and see our workshops and events.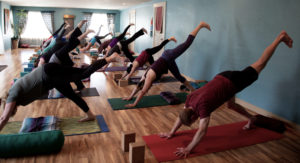 A few highlights –
Qigong is back! Check out the Tuesday evening drop in class, held at our 7th St studio, and the Thursday morning workshop series – details here.
Every-Body Yoga aka Adaptive or Senior Yoga – This accessible yoga class continues on Wednesdays at 10am (no class January 1st). This class is perfect for anyone unsure of how yoga will work for them. Learn more here, and come give it a try!
Among our monthly offerings… Family Yoga – bring the kiddos! Third Saturday of the month, and families have been loving this class! Learn more here.
NEW! A monthly Introduction to Yoga workshop – the perfect place to begin if you are not sure if yoga is for you! Come join us on January 25th.
Visit our Calendar for the full listing of weekly classes, and you can take a look at the What's Happening drop down menu to explore all of the current offerings. .
As always, if you can't find what you are looking for, or if you have questions or suggestions, please contact us. We love to hear from you.