New to CCY? Try the New Student Special.  Are you a regular at the studio? need a weekly tune up? Check our calendar for the regularly scheduled classes, and for more workshops and events.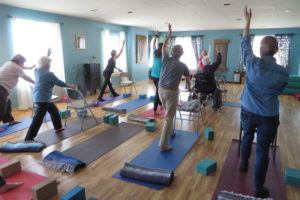 Coming up – Highlights for June
Yoga for Arthritis – this unique 8 week series begins June 4th. This a full yoga program designed to help you find your best ways for managing the pain of arthritis. Registration for this class is now closed. 
New Weekly Class just for the Summer – Twilight Yoga with Dresden begins on Monday, June 3rd, and will run every Monday evening, 7:15-8:30pm through August 26th.
Yoga for Seniors /Adaptive Yoga – This accessible yoga class continues on Wednesdays at 11am at our 7th St studio, and is perfect for anyone unsure of how yoga will work for them. Learn more here, and come give it a try!
Among our monthly offerings… Once a month on a Saturday, come for Family Yoga – bring the kiddos! Next class is June 15th.  Great for families with kids ages 4-12.  Learn more here.
Another monthly offering – Vinyasa Flow and Meditation is a monthly offering on the 3rd Friday of the month. Check upcoming dates here.
Our other monthly offerings continue with the Sunday Long Practice, and Yoga Nidra.
Check out our Calendar for the full listing of weekly classes, and you can take a look at the What's Happening drop down menu to explore all of the current offerings. .
As always, if you can't find what you are looking for, or if you have questions or suggestions, please contact us.  We love to hear from you.