Qigong is back in November! See the details below.
New to CCY? Try the New Student Special. Are you a regular at the studio? need a weekly tune up? Check our calendar for the regularly scheduled classes, and for more workshops and events.
A few highlights –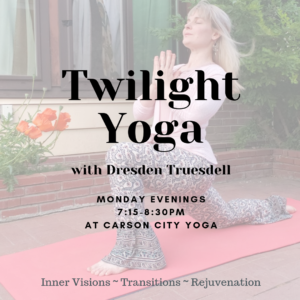 Qigong returns in November! Two options for this offering with Deborah Stevenson – you can choose a 6 week series on Thursday mornings, or try a Tuesday evening drop in class.
Twilight Yoga with Dresden has been extended through the end of October! It is offered every Monday evening, 7:15-8:30pm now through October 28th.
Yoga for Every-Body /Adaptive Yoga – This accessible yoga class continues on Wednesdays, with a time change beginning in September – now offered 1:30-2:30 every Wednesday. This class is perfect for anyone unsure of how yoga will work for them. Learn more here, and come give it a try!
Among our monthly offerings… Family Yoga – bring the kiddos! Third Saturday of the month, and families have been loving this class! Learn more here.
Another monthly offering – Sun Flow Yoga is a monthly offering on the 3rd Friday of the month, at 5:30pm. Check upcoming dates here.
Sunday Long Practice with Molly is back! And Yoga Nidra continues on the 2nd Friday of the month.
Midweek Meditation with Jenn continues through November 20th.
Check out our Calendar for the full listing of weekly classes, and you can take a look at the What's Happening drop down menu to explore all of the current offerings. .
As always, if you can't find what you are looking for, or if you have questions or suggestions, please contact us. We love to hear from you.